helicopter kit
the helicopter landing kit was developed by leland stanford, a structural firefighter, in 1985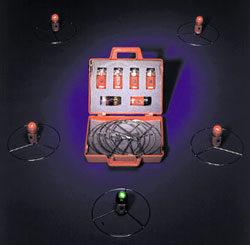 because he was involved in several emergency helicopter landings whereby the personnel on the ground who were assisting in landing the helicopter got in the way and, fortunately, no one was seriously injured, but it made him realize how dangerous landing a helicopter is.

leland's core business has always been the gas filled cylinders that inflate life jackets. while in the life jacket business, the need for additional safety items such as battery-operated strobe lights has come to light many times. leland is actively involved in the manufacturing and distribution of several types of strobe lights. the one that is featured in the current emergency landing kit uses a wind proof wire, metal base that turns onto the bayonet fittings on the bottom of each battery powered strobe. these wind proof bases allow the strobe to stand upright so the pilot can see a "box" of five flashing strobes. the fifth one uses a different colored lens indicating an upwind direction, as helicopters need to land into the wind.

although not as much as a visual aid to the pilot, it is equally important for the ground personnel to stay out of the landing zone box, which is usually 100' x 100' in size. the terrain should be level and free of loose debris such as gravel, branches, etc. the entire kit is beautifully encased in a durable, reusable carrying case that fits easily behind the backseat of a fire truck, an ambulance or in the trunk of a police car. these kits also mark out hazardous locations such as auto accidents, hazardous material spills and other instances where emergency lighting needs to be readily accessible.
5 each, high intensity strobe lights, esl i¹s
5 each, quick connect bases
4 each, clear lenses
1 each, red lens
1 set, pavement clips
5 each, industrial "d" batteries
1 heavy duty carry case
How to Become an Amazon Reviewer and Make Money
A. [Image] Promising review: "I have been looking for a pair of comfy slippers that are comfortable, and fit my foot perfectly! I ordered these slippers, and they are so comfortable! I'm in love! They are so comfy, comfortable, and very cute.
*All the blackjack sites on the list above are safe and secure. Also, please do not forget to read the terms and conditions in full before you accept a bonus.
what can you get for 锟? on amazon
Install a CMS on your hosting. 5. Install Nielsen Computer & Mobile Panel